Call Baja today! [800] 366-9600
Baja is a Commercial Carport Installer; Specializing in Design, Engineering, & Installation since 1981.
Baja's Solar Carport systems & Standard Carport structures cover Parking Lots Nationwide
Municipalities
•

Commercial Parking Lots

•

School Districts

•

Colleges & Universities

•

Multifamily & Affordable Housing

•

Non-Profits

•

Manufacturing & Distribution Facilities

•

Transportation Terminals 

•

Auto Dealerships

•

Parks & Community Centers

•

Churches

•

Stadiums

•

Parking Garages

•

 

Convention Centers

• 

Covered RV & Boat Storage
What's parked underneath matters to us!
Solar Carport Benefits
Solar carport systems require little maintenance. These systems are reliable. Adding battery storage makes them even more trustworthy; a power supply can be 24/7. Baja solar carport framing systems help commercial businesses turn their property's parking areas into the business's power source. Solar carports are safe for all communities.
Standard Canopy Benefits
Installing standard carports on multi-family or commercial properties adds to greater tenant retention. Renters, leasees, employees, and guests like that their vehicle is protected from the weather and sun. 
Covered RV Storage Carports
Invest in an RV & Boat Storage business
Across America, there is a demand for recreational vehicle storage parking. Adding covered RV carports to an existing storage business adds a second revenue income. To cut the business's electrical operating cost, owners are adding solar RV carports. The owner is still making and saving money when space is empty.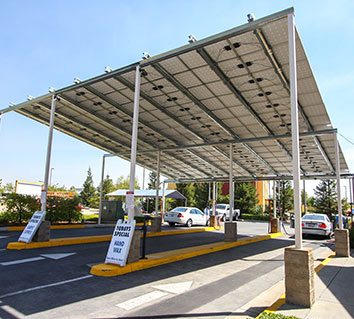 In-House Design/Engineering
Baja's in-house design/engineers create custom pre-engineered solar framing systems and standard carport frames for our extensive Baja Carport product-line that meet the engineering specifications of the customer and their city's criteria. Baja's in-house design/engineers provide customers with carport structure plans that seamlessly integrate into their property's site [and complement surrounding building's aesthetics] with the maximum coverage possible. Baja steel carports and canopies are engineered "site-specific" to meet required live loads up to 90 psf, and wind speeds up to 170 mph.
Nationwide Supply & Installation
Baja's teams' supply and install Baja Carports: solar carports, standard shade carports, covered RV & Boat storage canopies throughout the United States. Each Baja Carport is highly specialized, designed and engineered to the customer's specification using pre-engineered galvanized  light-gauge high-tensile steel or structural steel; for this reason, we self-perform.
Carport Repair
Baja has a division dedicated to carport and canopy repair. A Baja repair technician will assess the damage and price the repair accordingly. Most damage caused to carports is from a vehicle colliding with the column post or its roof's trim. Our carport repair team's priority is safety first. Baja technicians are supportive and understand the urgency to get the structure repaired and back into commission. We service all brands of carports; The damage does not need to be to a Baja Carport or canopy that we've installed. Because Baja's primary service is designing and engineering carports, our repair technicians are experts in repairing carport structures to industry compliance.
Baja Carports can answer your carport installation questions today!
What sets Baja Carports products apart from others in the industry, is we do all design/engineering in-house! Which is why we can answer your solar carport or standard shade carport installation questions today! We understand that no two parking areas are ever the same, which is why all Baja solar carport systems and standard carports are design/engineered site-specific to meet the customer's specifications, required local live loads, and wind speeds.
Preliminary Discussions Will Save Time & Money
You don't need a set of plans to begin talking to us about your carport parking lot project. Baja's in-house design/engineers will work closely with you to meet your project specifications and jurisdiction. You'll have our design and construction team's years of experience applied to your layout. Baja's engineers will deliver a set of plans that maximum carport coverage and details the most-effective layout for your business' parking lot.
[Baja does not sell our design/engineering drawings to end-users. We will supply engineered pre-fabricated materials to pre-qualified customers! ]
Nationwide Supply & Installations
Baja has logistics in place to complete solar carport and standard carport installations nationwide! We use local and national suppliers. Baja project managers and engineers interact with our suppliers daily to avoid unnecessary material delays, and to resolve issues before problems can arise. Whatever size your parking lot or area is that you need a carport or canopy for, it's not too large or too small for Baja Carports!
[Website Home Page Form] Please do not use form for solicitations!
Baja Carport Solar Support Systems™
For big businesses, going green isn't just about saving the environment. Nearly half of Fortune 500 companies have incorporated sustainability goals and initiatives in the workplace, not only helping to save billions but also improve public perception. Here are some of the steps that the most successful companies are taking to work towards a greener future.
Established in 1981, under the legal name Baja Construction Co., Inc. [License No. 412390] It's the company's trademark Solar Support Systems™ and Standard Canopies products' brand name; Baja Carports, that is instantly recognized and known nationwide among solar integrators, developers, and general contractors as a leading solar carport installer and canopy contractor. 
(800) 366-9600 Nationwide
(800) 366-9600 Carport Repair