America's Leading Solar Carports Installer of Pre-Engineered/Pre-Fabricated Steel Frames
baja Carports pre-engineered frames are designed and engineered in-house and each carport is pre-fabricated from American steel, pre-galvanized light-gauge high-tensile steel or structural steel. baja's industry experience as a leading national solar carports installer has gained us the reputation for achieving maximum shade coverage with optimal solar production.
baja's in-house design/engineers and project managers emphasize the proposed site's layout. Following our best practices allows the baja solar carport installer teams to engineer our solar carport frames to optimally perform for the property and its owner, while also being economically efficient. We achieve optimal shade coverage and PV production because we treat the project's entire installation as site-specific.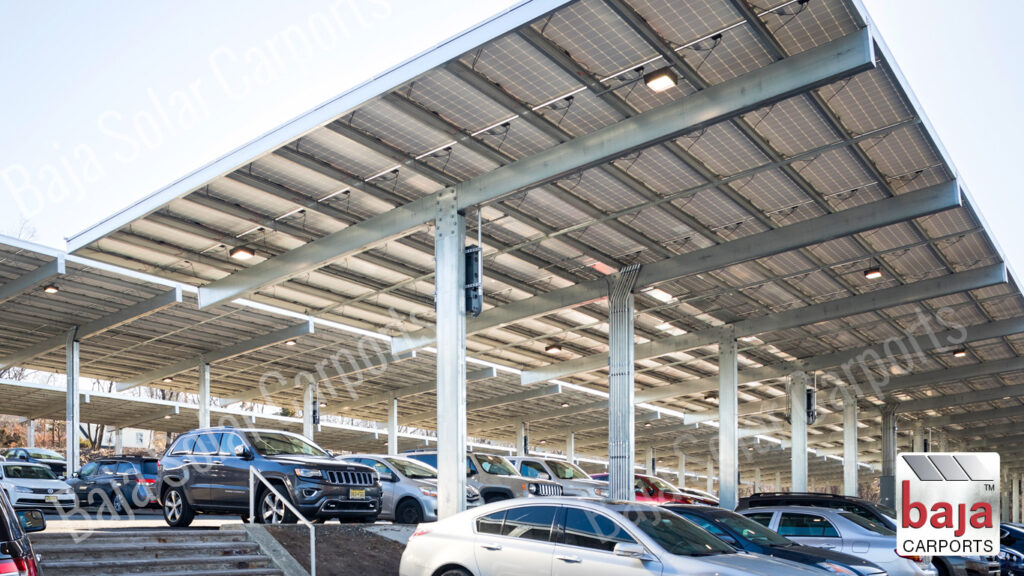 Covers two [2] parking rows
Post located in structure's centerline between rows
Flat & sloped array  [options]
EV Stations [options]
Ideal for large parking areas
Corporation, Government Campuses, Hospitals, Stadiums, Transporation, Universities, Tracker Trailer Coverage, Equipment Coverage
We are the top Solar Carport Installer of Pre-Engineered Solar Support Frames
Our solar carports offer a wealth of benefits for businesses, developers, and property managers who are looking for renewable energy, cost-effective ways to park, store and shelter multiple vehicles. Whether the carport project is large or small or on an existing lot of a hospital, shopping plaza, in an office complex, or at multifamily or affordable housing property or is new construction; its size doesn't matter! We cover parking areas for mobile home communities, churches, stadiums, schools and college campuses, and RV & boat storage facilities. With a baja carport solar support system, you can generate electricity cleanly, safely, and inexpensively for your business.
The benefits of our Solar Carports Pre-Engineered Frames
Solar carports generally produce more power than ground mounts and rooftops. Energy savings can be immediate.
Improves aesthetics of a property
Maximum shade coverage
Lowers owner's operational costs
Increases cash flow
Can eliminate or significantly reduce electricity cost
Clean, secure energy production
Increases parking lot safety
Reduces carbon footprint
Provides a better user experience for staff, visitors and clients
Enhances brand/property's reputation
Generates electricity in-house – avoiding blackouts and brownouts
Added options by other vendors
Paint on-site
[Planned] EV charging stations
Security cameras
LED Lights
Inverters on columns
Bollards
Virtual net-metering software [One of our favorites is Grid Technologies]
We offer dozens of pre-engineered bolted connections carport structures, full cantilevers, semi, single post back to back, double post, and braced single post solar carports with no field welding. No field weld inspections will save time and money, making for fast on-site assembly on any property condition, especially on intricate hardscapes. All baja solar carports designs are in strict compliance with the ASTM standards, using galvanized cold-rolled light-gauge, high tensile-steel framing, and components. [Structural steel is available upon request, carport function, and project practically]. To meet the aesthetics of the surrounding buildings, we can paint on-site.
If you're interested in a PV carport system designed and engineered solely for your property, call baja today at 1-800-366-9600. If you have a helioscope or preliminary design layout, please have it available to email to us. Though it's not necessary, it is helpful to start a conversation. As a safety-first solar carport installer, we feel it is our goal to know more than we need to about your property's parking lot. We need to see where the entries, exits, foot-traffic, ADA requirements, fire-lanes, loading dock locations, dumpsters, water run-off, etc., baja's expertise as a solar carport installer can lead to a more effective array system(s) as well as driver and pedestrian safety.